The rush of people with guns discovering chupacabra-like creatures continues . . . this time in New Mexico.
On Albuquerque's West Mesa a gentleman was out shooting when he "kicked [a chupacabra-like creature] out of the dirt." (Not word on whether it was kicked out with a foot or a bullet.)
Pictures of the creature ran on a local TV channel, whose story (including video) is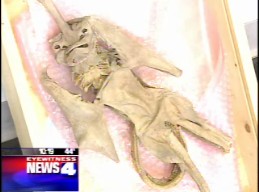 The dessicated (but apparently not fossilized) creature appears to have wings, a tail, a long snout that some have compared to a horn, and lips that are described as "sponge-like."
It was taken to the New Mexico Game & Fish Commission for identification, and the TV channel promised to annouce what they concluded it was, but so far as I can tell they haven't posted a follow-up report on their site.
They did say in general terms that the game & fish officials thought this was a creature that lived under the sea a long time ago.
This raises a question, though: If it's old enough to date from when New Mexico was underwater, why ain't it fossilized?
If it's more recent, how did it get there? Did it survive in a lake that dried up? Did someone or some animal catch it elsewhere and transport it? Are any of these things still alive?
Maybe . . . someday . . . the answers will surface.
(Cowboy hat tip to the reader who sent this in!)