SDG here with a belated follow-up on my mystery photo post — and a bunch of photos.
First, as I acknowledged in the combox, the two mystery photos show me in Geneva and Rome, posing with large statuary representations of John Calvin (among others) and St. Peter — an echo of my faith journey from the Calvinist milieu of my upbringing to the Catholic faith I hold today.
But what else do Geneva and Rome have in common? After all, I wasn't there as a Tiber-swimming pilgrim first and foremost. As I mentioned in the combox, the trip was movie related — and the specific connection was mentioned in earlier comments. In fact, Geneva and Rome are both important settings in … Dan Brown's Angels & Demons, the movie version of which opens in May.
Earlier this month, I was one of a number of journalists from around the world that converged in Switzerland and Italy to view settings from the story and to interview the filmmakers, among other things. We also saw some excerpts from the as-yet-unfinished film.
In connection with the trip, I'll be writing a piece for Christianity Today magazine on anti-Catholicism in Hollywood. I'll also be reporting on all things Dan Brown in a number of Catholic venues, both print and radio.
In Geneva we visited CERN, the European Organization for Nuclear Research (official site | Wikipedia), a particle physics laboratory that figures in Angels & Demons. (The bad guys steal about a gram of anti-matter from CERN in order to blow up the Vatican. (How plausible is this? Short answer: CERN does make anti-matter, in infinitessimal quantities — a few atoms at a time — which are almost instantly annihilated. They can't store anti-matter for any length of time, and even if they could it would take something like 10 million years for them to make enough for a bomb. A gram of anti-matter would, however, cause a lot of damage if annihilated all at once. For more, see CERN's highly entertaining and informative Angels & Demons FAQ.)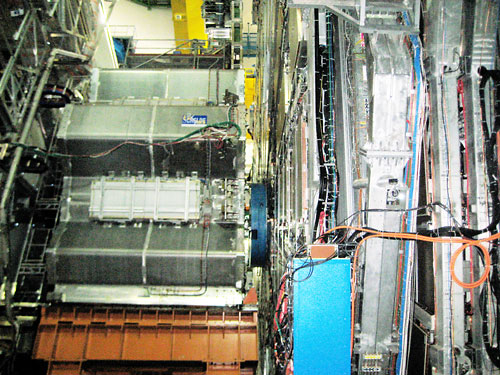 We got to go down into the Large Hadron Collider, or rather the ATLAS project, a ginormous detector that measures particle collisions in the LHC. How ginormous? There's about as much metal in ATLAS as in the Eiffel Tower. This photo is only a tiny portion of what I could see from where I was standing, and what I could see was only a tiny portion of the whole.
The LHC is really big too: it occupies a big, circular, underground tunnel with a circumference of about 17 miles. (Why underground? Because above ground there's all houses and roads and stuff and it's hard to build a 17-mile circular tube somewhere where people can live close enough to work on it.)
We also got to talk to some of the scientists who work at CERN. (Favorite quote: "If Dan Brown got the Vatican as wrong as he got CERN, we [at CERN] have a lot less to complain about.") To my surprise, I discovered that I knew two of them: An online friend from Arts & Faith named Jeff emailed me just before my flight from the US to let me know that he lives in Geneva and works at CERN, and when I got there I was approached by a Decent Films reader with whom I'd corresponded in the past, and who conducted our tour of ATLAS.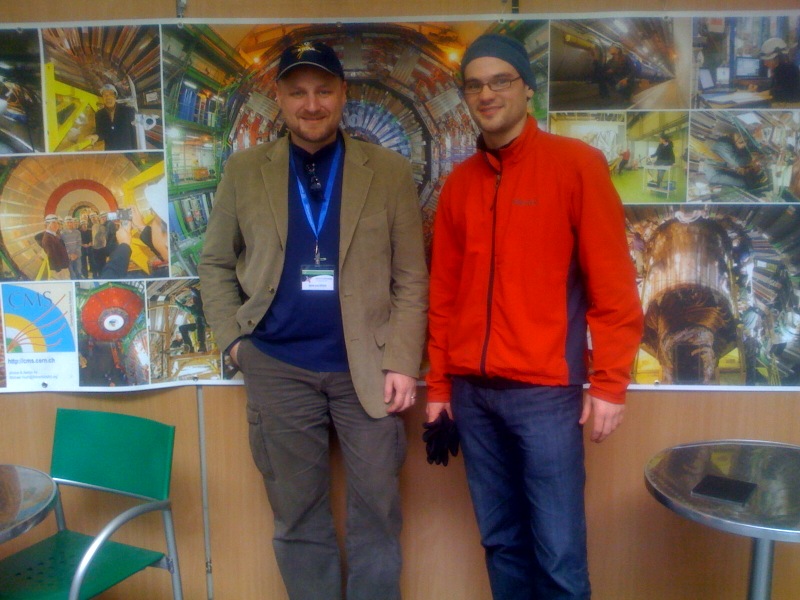 I also got a tour from Jeff of a lot of the CERN campus that wasn't on the A&D tour, which included (or excluded, if you follow me) most of CERN except for the big exhibit dome and ATLAS. (Jeff tells me how lucky I am to have seen ATLAS — like many CERN folks on different projects, even he hasn't seen it, and soon CERN will be closing ATLAS permanently to visitors without formal radiation training.)
Ironically, Jeff and I lived in the same state for a couple of years in the 1990s, Pennsylvania. How strange that we had to travel a quarter of the way around the globe for our paths to converge at such an unlikely location.
Anyway, I'll post more pictures of Geneva later, and I'll talk more about covering Angels & Demons in Rome. For now, I'll just jump to posting some photos from my time in Rome. (You know what they say about pictures and words!)
It doesn't give you a clue how big St. Peter's is, but you can get a sense of the division of space in this shot.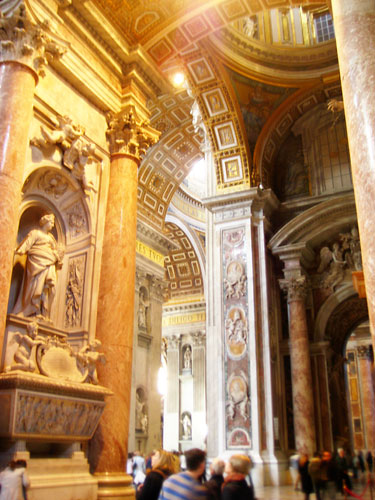 From up in the dome at St. Peters.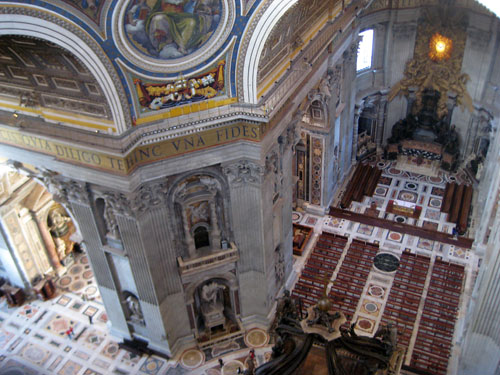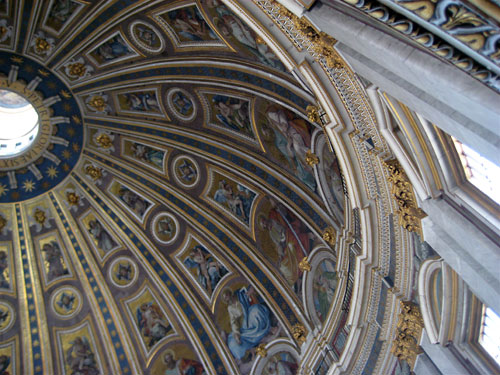 You are Peter and on this rock…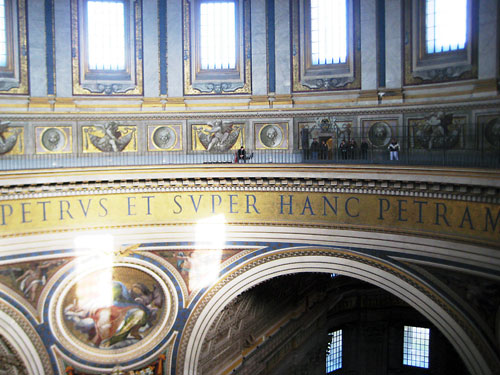 From the roof, looking up at the dome.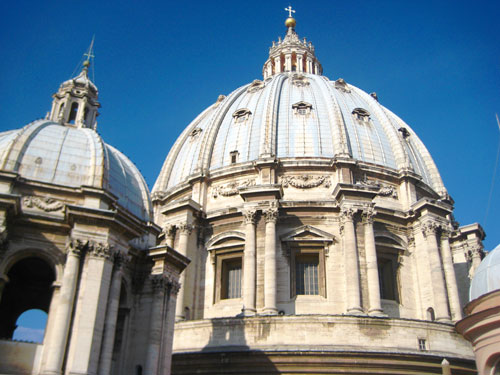 Vatican City, under the shadow of St. Peter's, viewed from the cupola.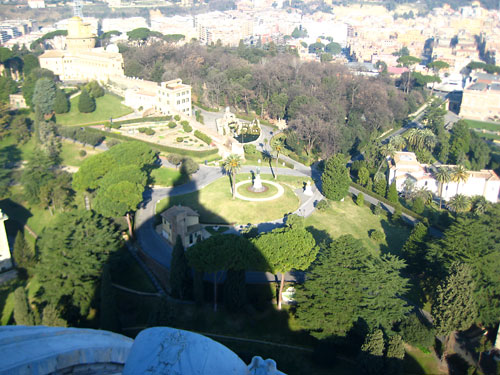 I think you probably know this statue. It's at St. Peter's, in the first chapel on the right (north) side of the nave.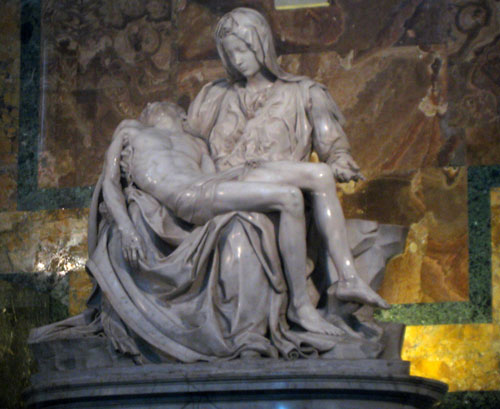 Here's a similar subject at St. John Lateran, the pope's cathedral. Michelangelo really was a genius, wasn't he?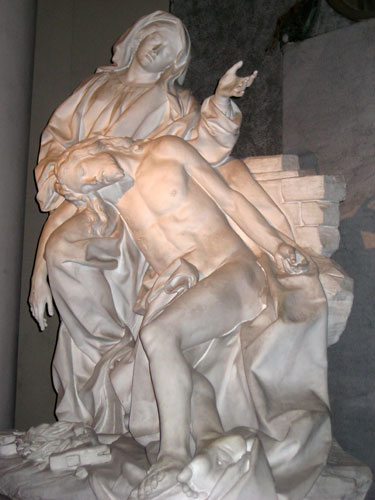 St. John Lateran.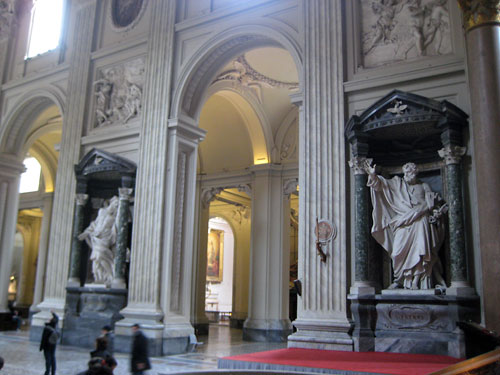 Angel from the Bridge of Angels with St. Peter's in the background (Terry Mattingly pointed out this shot to me).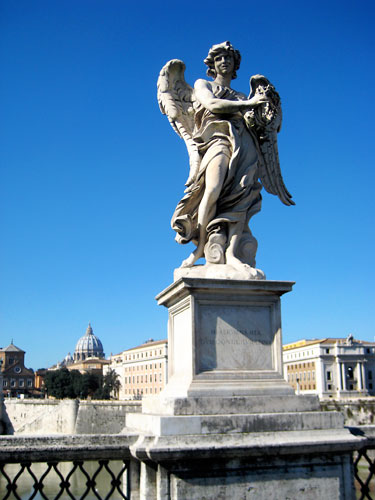 A similar shot by night.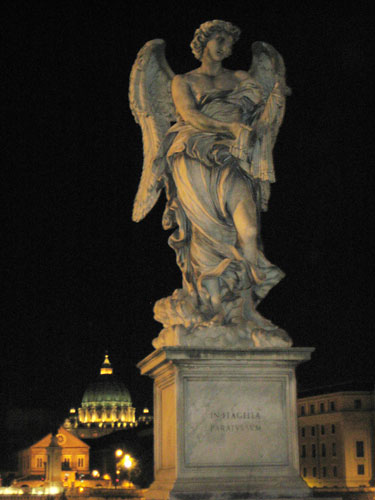 Here's a shot I really like: old Rome and "new" Rome side by side.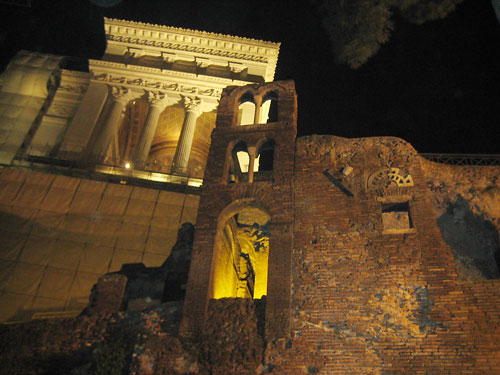 If you go to Rome, visit the Colosseum at night. You can't go inside, but there are no crowds and you get great photos.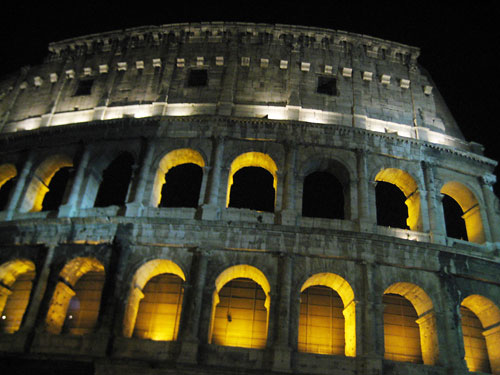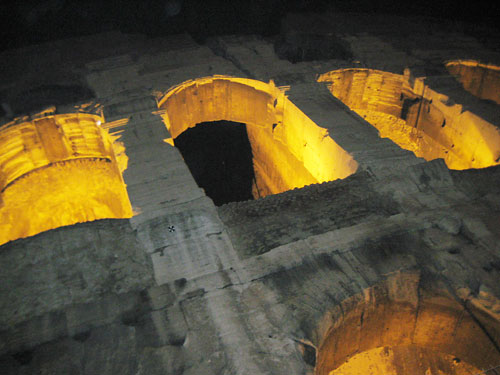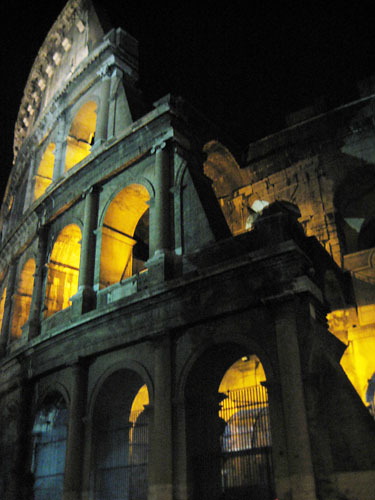 St. Paul's Outside the Wall's. In this shot you can see the statue of St. Peter I posed in front of as well as the apse icon from the 360-degree presentation a comboxer posted.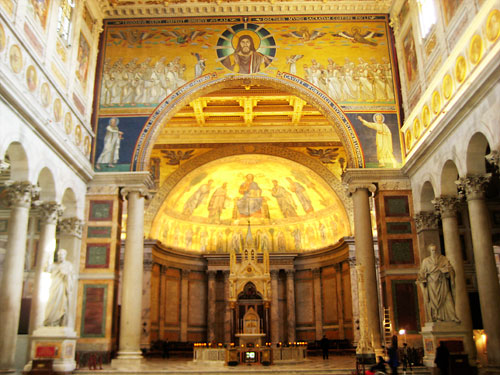 A few pics from the Vatican museums.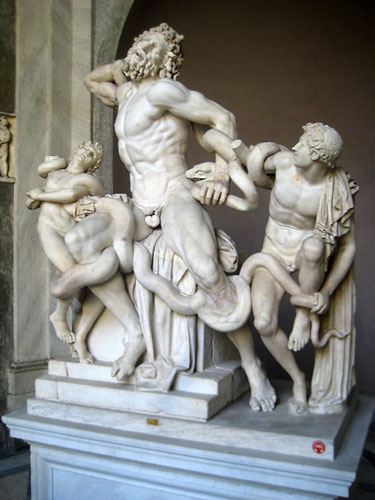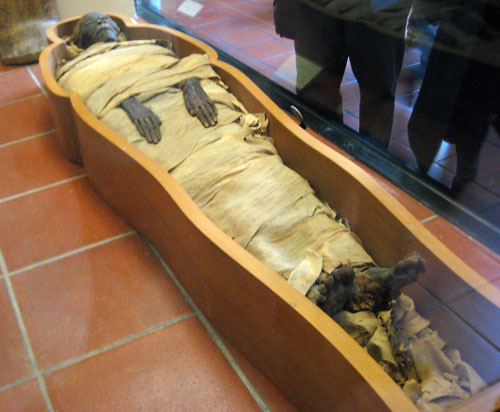 Ancient Christian graffiti, embedded into the narthex at Santa Maria in the Trastevere.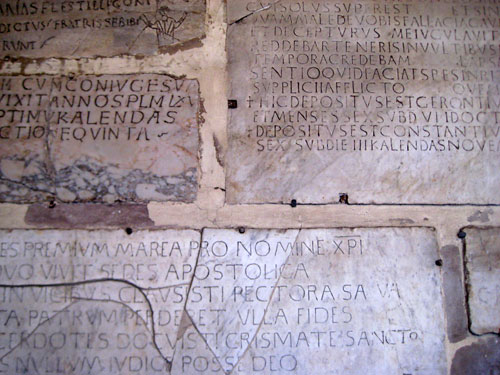 Constantinian Arch.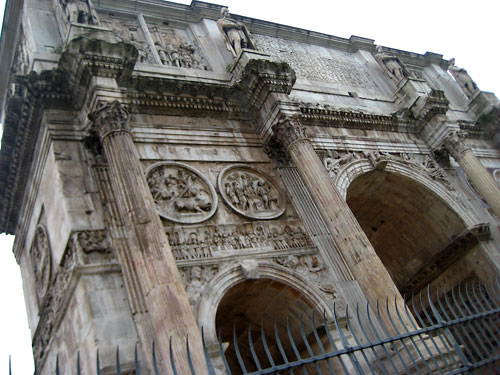 Arch from an old Roman fort near the Colosseum.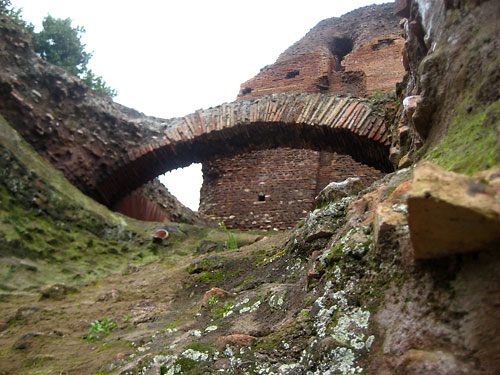 Castel D'Angelo and the Bridge of Angels by night.