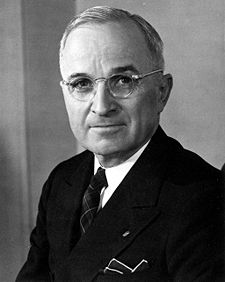 As a result of recent discussion of torture (which is not the subject of this post, so don't veer into that topic in the combox; I may do a post on the subject of torture soon), the question arose on The Daily Show of whether Harry Truman was a war criminal.
He should have stuck to his guns. He was right the first time.
At least, I'd say that with a few of words of clarification.
I am interested in the question from a viewpoint of moral theology, and in that framework the question of what counts as a war criminal will not depend on whether one has violated human law but whether one has violated the fundamental moral
jus in bello
, or the moral law as it operates in wartime.
A person is a war criminal, as I am using the term, if he commits acts that objectively speaking violate the moral
jus in bello
.
2312 The Church and human reason both assert the permanent validity of the moral law during armed conflict. "The mere fact that war has regrettably broken out does not mean that everything becomes licit between the warring parties."

One of the things that is never licit is the direct and voluntary taking of innocent human life. John Paul II writes in
Evangelium Vitae
57:
[B]y the authority which Christ conferred upon Peter and his Successors, and in communion with the Bishops of the Catholic Church, I confirm that the direct and voluntary killing of an innocent human being is always gravely immoral. 

For purposes of our present discussion . . .
A person is killed directly if that person is the target or part of the target in the act of killing. That is, the person is not killed as "collateral damage" that results from the attempt to destroy a different target.
A person is killed voluntarily if his death is foreseen as a result of the contemplated action and it is carried out anyway. 
A person is innocent if he is not a combatant or a person engaged in proximate material cooperation with combat activities (e.g., military officers who, while not directly in combat, do support work for the war machine; civilians working in munitions plants).
Remote material cooperation in combat activities (e.g., as in the case of farmers who grow food that soldiers eat) is not sufficient to deprive a person of the status of "innocent civilian," for in time of war virtually everyone in society has–at least through the payment of taxes–remote material cooperation in combat activities, which would obliterate the very distinction th
at the Church is at pains to draw in its teaching regarding not killing civilians during wartime.
If one accepts these premises then it follows that Harry Truman's bombing of Hiroshima and Nagasaki were war crimes–that is, they occurred during time of war and they violated the moral
jus in bello
.
This is because entire cities were targeted to produce the greatest psychological effect on the Japanese and these cities included innocent civilians who were part of the target.
Don't get me wrong. I'm not a prude about the use of lethal force or about the use of atomic weapons. I can envision hypothetical scenarios in which their use would be legitimate, but a set of rigorous conditions would have to be met. Specifically, there would have to be a sufficiently high value combat-related target to justify the collateral damage incurred from the use of the Bomb and there would have to be no cost-effective alternative that would result in less collateral damage.
Such conditions were not met in the case of the atomic bombings of Hiroshima and Nagasaki. The cities themselves were targets, including their innocent civilians.
Harry Truman was thus a war criminal in the sense I am using the term.
In saying this, I don't pass judgment on him. I don't know the state of his soul, and I have no idea whether he has the intellectual formation needed or–given the pressures of wartime–the psychological wherewithal to analyze the issue in the way just presented.
Maybe he did; maybe he didn't. That's between him and his Creator, and I'd be among the first in volunteering to pray for his soul.
But, objectively speaking, he was a war criminal in the sense described.
And I'll go you one better.
The bombings were also acts of terrorism.
While I can't point to an official definition of terrorism endorsed by the Magisterium, it seems to me that sufficient conditions are present for terrorism, morally speaking, if
1) The grave harm of innocents (as defined above) is directly and voluntarily threatened or inflicted and
2) The purpose of (1) is to generate a sense of fear (i.e., terror) in some party and
3) This fear is either an end in itself or a means to accomplishing another goal.
These conditions were present in the bombings of Hiroshima and Nagasaki. Grave harm was inflicted on innocents to generate fear in the Japanese leadership as a means of compelling them to surrender.