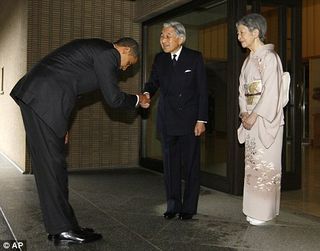 I'm sure most folks have seen the picture of President Obama bowing to the Emperor of Japan.
We'll it's not the first time he's done that with a foreign head of state, though this time it's even more impossible to argue (as some of his defenders, including his own press secretary, Spokesbot Robert Gibbs, did when he bowed to King Abdullah) that he was just bending over to shake the hand of a short foreign leader.
No, this was a bow–captured unmistakably in the photo from the side.
No doubt, he did it out of a belief that this is a polite way to greet people in Japan.
But one has to be careful about imitating the customs of people from other cultures, lest one send unintended messages.
For example: Does bowing to the Mikado convey politeness or subservience?
Knowing that kind of nuance is not part of a president's job requirements–but it is the reason he has a protocol office that is supposed to advise him about such things, and as Allahpundit points out, Obama's protocol office is "famously run by imbeciles."
I'm not instantly enraged at the idea of a president bowing to someone. Actually, I'm more disturbed by seeing American leaders dressing up in foreign garb at diplomatic events. But then presidents of both parties do that. I understand that it can be construed as conveying honor to another culture to adopt its dress, but clothing is so personal–and so much more perduring than a simple bow–that my preferred solution would be to have everybody show up in his own native garb (business suits for American presidents; plus formal attire for formal events).
There's always a question of how much to defer to local custom when in a foreign land, and a bow–like every gesture–has the meaning that is invested in it. It need not always convey subservience, and if there were a land where not bowing was insulting and in which their leader would reciprocally bow to our leader then I could understand.
But look at who's not bowing in the picture above.
And look at who's not bowing in the following video:
So. President Obama is made to look like a fool by what is clearly another protocol office mistake.
That raises a disturbing question: Why hasn't Obama learned his lesson from the protocol office's previous mistakes and replaced the appropriate individuals with more knowledgeable ones?
Thomas Sowell wonders what the real-world consequences will be of Obama making himself–and by the extension the United States–look weak in foreign eyes. And it does seem inevitable that this event would be read in light of Obama's tendency to apologize (in the "I'm sorry" sense) for the United States when on foreign soil.
Which brings up something else Allahpundit notes:
For another thing, and somewhat notably, Japan isn't a stop on The One's world apology tour. It could have been, but he declined the opportunity to turn it into one.
And he's right. Here's a case where–because of the bombing of Hiroshima and Nagasaki–the United States really does have something to apologize to Japan for. Defending ourselves in World War II was morally justifiable, but nuking cities to put pressure on the Japanese government was not.