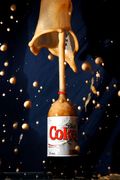 Great new vid from the folks at Eepybird.com! (CHT: GreenAutoBlog)
 Amazing new automotive fuel source . . . Diet Coke + Mentos! (Technically, Coke Zero, but, y'know.)
Behold . . . Experiment #321!
Impressive as always!
(And I had the same thought about a next destination as the guys in the video did, though I don't guess we'll get to see that one.)
Mind you, Experiment #321 is definitely awesome win, but it's no Experiment #214, which was truly epic win.
In case your memory needs refreshing, let's take a pause that refreshes.
Up from the archives . . .
You see? Totally epic! Experiment #214 is not only cutting-edge science, it also has amazing healing properties. It's the kind of thing that you want to keep bookmarked so that any time you're feeling down or hurt, you can watch it and remember how much there is to celebrate in the world.