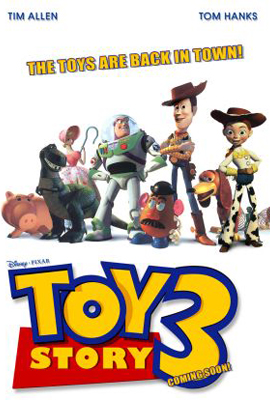 Hey, Tim Jones, here. I saw Toy
Story 3 the other night, and found that – contrary to my fears a
year or more ago – it is a very worthy successor to the previous Toy
Story films. Lots of LOLs, and fun throughout.
I began to have a
sense of persistent déjà vu as the story progressed, though. Here
is the basic arc of the tale; WARNING!
SPOILERS!!
A young man is growing up, going off to college, and has seemingly
abandoned the __________ he loved as a child. He hasn't really abandoned
them, though. It's all a big misunderstanding.
The __________
find themselves in a jam, separated from their master. They bravely
decide to find their way back to him, but are thwarted in their quest by
hostile __________ that plot and scheme, and finally manage to send the
brave __________ to the city dump!
At the dump, the __________
are very nearly destroyed, but are pulled from a Conveyor of Death at
the last possible moment.
Together, having learned to rely on one
another, the _________ finally succeed, are reunited with their master,
and are given a new lease on life.
Now, fill in the blank with the
word "toys" and you have the synopsis for Toy Story 3. But change the
word to "appliances" and you have the synopsis for The Brave Little
Toaster! If you think I found this disappointing, you would be
mistaken. Toaster has been a family favorite for a long time.
Toaster,
a Disney film, like most of Pixar's stories, is a cautionary tale about
Leaving Important Things Behind, a moral I very heartily endorse in our
throw-it-away-and-don't-look-back culture. Not surprisingly, there are
creative connections behind the scenes, Pixar's John Lasseter and Joe
Ranft (recently deceased) having been involved in the project at various
points. The final product was directed by Jerry Rees, a friend of
Lasseter's.
So, I thought the nod to Toaster altogether
appropriate. Why waste a good story? John Lasseter has been telling the
same story in all his films for years now, and that's a good
thing.
And don't even get me started on the religious symbolism of the
two films…
(Cross posted at Tim Jones' blog, Old World Swine)