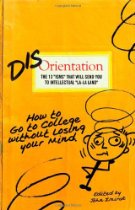 No, not the one you're thinking of. A different one.
You see, recently John Zmirak, Elizabeth Scalia (the Anchoress), Eric Metaxas, Peter Kreeft, Robert Spencer, Dwight Longenecker, Eric Brende, George Rutler, Donna Steichen, John Keck, Mark Shea, Jeffrey Tucker, John Zulhsdorf, and I were sitting around the pool shooting the breeze and talking about how it would be nice to collaborate on a project with each other.
So we did.
We wrote a book together.
That afternoon.
At John Zmirak's suggestion, we took on the most common ideologies infesting college campuses today–sentimentalism, relativism, hedonism, progressivism, multiculturalism, anti-Catholicism, utilitarianism, consumerism, cynicism, feminism, Americanism, Marxism, and modernism.
And we trounced them thoroughly, with each of us contributing a chapter. (I did the one on anti-Catholicism.)
Now that book is out. It's called Disorientation: The 13 "isms" That Will Send You to Intellectual "La-La Land."
While it's pitched in a special way for those in or entering college (hint: Christmas gift idea for high-school or college-age relations!), it's also fun to read and of interest to anybody who would like short, snappy responses to the ideologies of our day.
And it comes with cartoons! Did I mention that it comes with cartoons?
While the above poolside story is entirely fictitious, the book is not, so . . .