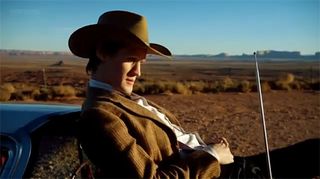 So the new season of Doctor Who has premiered (in fact, with the release of the third episode this weekend, we're about a quarter of the way through the 13-episode series), and here are a few thoughts:
1) Steven Moffat (the current show-runner and author of five of this season's episodes) continues to impress with his darker, suspense-oriented plots. His new villains–The Silence–are worthy of his old villains, which include the Weeping Angels and the Vashta Nerada (the flesh-eating shadows from Silence in the Library and Forest of the Dead). Moffat is good at delivering creepy villains and compelling horror out of things you wouldn't think could be scary. (An immobile statue of an angel? How can that be scary?)
2) The creep factor on the show has, in general, been really good so far. Not only are The Silence creepy, but the countermeasures used against them and the way they are introduced (e.g., marks on the flesh) are creepy. Many of the creepy elements in Moffat's tenure on the series work a kind of intimate or claustrophobic angle on fear. A statue that can move when you aren't looking at it. You can't let your shadow touch anyone else's or it may get infected with a monster that will consume your flesh. Monsters you forget as soon as you turn away from them. If anyone gets the tiniest knick on their skin, they're doomed to madness and death. This is fear being generated on the small scale, though our own knowledge of how easily we could slip up in such situations. This fear via the intimate and by implication–rather than big explosions, special effects, etc.–is impressive.
3) Moffat has also made time travel far more central to the show than it has ever been before–which is quite a statement since this is a time travel show! Up to now most episodes involved the Doctor landing in a particular time and wrapping up some mystery there before moving on. The time travel was just a way to get us from one setting to another. Moffat has made things vastly richer and multi-layered with the time travel. This emerged very clearly in the 5th season, coming to a head with the mind-bending two-part finale, and it's right here in the 6th season as well, with the two-part opener that portends ominous things about the Doctor's future (and River Song's past).
4) Moffatt's strong character arcs are noteworthy. The complex interplay between the Doctor, Amy, Rory, and River at the different stages of their respective journies is satisfying, and way beyond anything attempted on the show before. Some prior companions have been very memorable (Sarah Jane Smith, Leetah, Rose Tyler, Donna Noble, etc.), and there have been notable character arcs before (Adric, Turlough, Rose, Donna), but nothing like what's going on between the Doctor, Amy, Rory, and River has happened before.
5) Speaking of Rory, it's nice to have him aboard. He's earned his place on the TARDIS. His presence adds a great deal of emotional oomph to the show as he is essentially the everyman, the low character on the exoticness totem pole, and so we understand his reactions on an emotional level that relates more directly to us as audience members.
6) It's still cool, though, to have the mysterious Amy Pond (about whom much yet must be explained) and River Song (who is always a bundle of fun–and provides moments of intense poignancy, as when she realizes that the Doctor's first kiss of her will be the last time she ever kisses him).
7) Matt Smith's portrayal of the comic, frenetic 11th Doctor is pleasing. When I first learned that Matt Smith had been cast as the Doctor I was *profoundly* skeptical–as were many–but as soon as I saw him in action, I realized he was totally fine for the part. At this point, he's delivering one of my more favorite portrayals.
8) Whe the season has all the above going for it, I–of course–do *not* approve of the objectionable moral content that is part of the U.K. fascisto-politically correct regime for children's television (and society at large)–e.g., the final scene between Shepard and Nixon right at the end of Day of the Moon. At least Moffat seems to be less intrusive about this stuff than his predecessor, Russell T. Davies. It's still mighty annoying, even if it is only present in a few throwaway lines.
9) The location shooting in the American Southwest for episodes 1-2 of the season wasn't really payed off in any way. It's pretty scenery, but there isn't much of a reason for it. Perhaps this is more impressive to British viewers, for whom this may have more "wow" factor than for Americans. It would have been better if the scenery had played more of a role in the plot rather than just being window dressing.
10) Also on a down note, the most recent episode–#3, Curse of the Black Spot–had some really huge plot holes. There were multiple parts where I wished I could punch up and fix the script. Some things in it were extremely effective (e.g., don't get cut or you'll die; be careful of everything you touch). Nice close, initimate horror. But there were also massive leaps of logic and plausibility that severely marred the episode. My current thought is that it's the weakest episode since Steven Moffat took over the series.
11) Fortunately, next week's episode is by Neil Gaiman, so it's likely to be really cool!
12) P.S. Stetsons are cool.