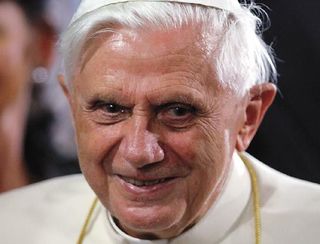 I love Pope Benedict!
Among the many reasons are, he's an awesome teacher. As a result, I've tried to study his thought closely, and I'm frequently amazed and delighted by the insights he provides.
The problem is accessing all of his teachings.
The Vatican Information Service and similar press agencies run by the Holy See provide news stories that contain brief English-language quotations from his writings and speeches, but I don't want excerpts. I want full documents.
The Vatican web site's section on Pope Benedict provides full documents, but they aren't always in English, and they aren't always released in a timely manner. Sometimes you have to wait weeks (or longer or till never) for an English translation to appear.
The Vatican web site also has an arcane–even Byzantine–organizational scheme in the Pope Benedict section that requires you to click multiple links to check each category to see what may have been posted recently.
What should happen is this: The Vatican web site guys need to (a) devote the resources to translating all of Pope Benedict's interventions into English in a timely manner and (b) they need to create a page or RSS feed that links them as they are released.
So far they haven't done that.
But I hate having neat-o keen Benedict documents slip past me because of the irregularity and user-unfriendliarity of it all.
As a result, I'm creating The Weekly Benedict.
Here's the plan: Once a week, if I at all can (I may sometimes have to miss a week, in which case I'll do double duty next time), I'm going to check a set of links I've developed that unwind the complicated organizational scheme that the Vatican web site uses to present Pope Benedict's documents. If I find a new document posted in English, I'll include it in a blog post under the heading "The Weekly Benedict" in the "+Benedict" section.
Depending on how much time I have to read the documents as I find them, I may provide quotations, notes, or commentary to help the reader find interesting things.
I'd call this thing "This Week with Pope Benedict" if the Vatican web site released English translations within a week of when Pope Benedict gave particular communications, but they don't, so there we are.
It should, nevertheless, provide a way for English-speaking Benedict fans such as myself to access his thought in as timely a manner as possible.
To make things even easier, I'm creating a special RSS feed called JimmyAkin.Org +Benedict to make distribution easier.
Here's the direct link: http://feeds.feedburner.com/jimmyakin/benedict
If you already subscribe to the regular JimmyAkin.Org feed or the JimmyAkin.Org +Religion feed then you will get these posts automatically and do not need to subscribe separately.
So that's the plan, anyway. We'll see how it works out in practice. I may need to adjust things as we go, but hopefully it will provide a new and better way for English-speakers to stay up with the thought of our wow-awesome Pope Benedict XVI!
Hope this helps!