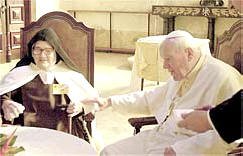 Based on Portugese press reports, the Scotsman is reporting that Sr. Lucia, the last surviving visionary of Fatima, has died at age 97.
Excerpts:
Sister Lucia Marto, the last of three children who claimed to have seen the Virgin Mary in a series of 1917 apparitions, has died, Portuguese media reported today. She was 97.

Sister Lucia, a Roman Catholic nun, had been ill for the past three months and died at the Convent of Carmelitas in Coimbra, north of Lisbon, TSF radio reported, citing family sources.

A funeral was scheduled for Tuesday, TSF reported.
READ MY ARTICLE ON THE THIRD SECRET OF FATIMA.
READ THE MESSAGE OF FATIMA (VATICAN DOC).
(Cowboy hat tip to the reader who sent this.)
UPDATE: Welcome Michelle Malkin readers. Sorry the occasion is such a sad one.
UPDATE: CATHOLIC WORLD NEWS HAS A GOOD PIECE ON SR. LUCIA AND HER PASSING.
Among other things, it mentions something I had been wondering about: the exact date of Sr. Lucia's death. CWN is reporting that she passed on Feb. 13. The thirteenth of the month is significant for the Fatima apparitions. They first began on May 13 and recurred on the thirteenth of subsequent months. The assassination attempt on John Paul II also occurred on May 13.