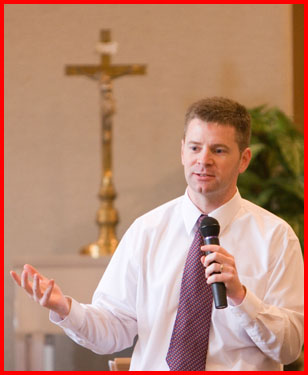 This post is going to be about the current dustup in the blogosphere regarding Christopher West and the recent ABC News piece on him.
Before I get to the controversial stuff, though, let me say a few words about the task Chris is undertaking.
Christopher West has a difficult job. As a chastity speaker, he's got to juggle several things at once:
1) He's got a very sensitive subject
2) On which different audiences have different sensibilities
3) The audience that most needs his message is very hard to reach
4) Part of the reason why they're so hard to reach is that they have a pre-existing stereotype of Christian sexual morality that they think gives them a license to tune out anything a Christian says on the subject
5) To reach this group you have to effectively batter your way past this anti-Christian prejudice and get them to take you seriously while simultaneously
6) Not offending the sensibilities of those who already take Christian sexual morality seriously
7) Some of whom have rigorist views on the topic
That's a tall order. It is humanly possible to juggle seven things at once (
SEE HERE
), but it's not easy.
Sometimes the task is especially treacherous, such as when being interviewed by the mainstream media, which is going to try to sensationalize every subject it deals with, but especially the subject of sex.
They'll also selectively edit the stuffing out of an interview with you and leave the audience with carefully chosen, out-of-context quotations.
That's what happened to Christopher West in this ABC Nightline piece . . . 
I've been interviewed by the press, and misquoted by it, often enough that when I first watched this piece, I employed the only safe rule when dealing with an MSM story of this nature: Ignore everything that doesn't come out of Chris's mouth. Do not rely on summaries of his position offered by the reporter.
The summaries that reporters use to link quotations are key means by which they distort, sensationalize, and just plain get stuff wrong.
And, as one would expect, the most controversial stuff in the piece is not stuff that Chris says but that the reporter attributes to Chris in a summary.
The statement that Hugh Hefner is one of Chris's "heroes" or "muses," for example, is something the reporter says–and it's exactly the kind of erroneous "observation" that a reporter in search of a sensationalistic angle would make.
Similarly the statement that Hefner and John Paul II, each in their own way, "rescued" sexuality is something that the reporter says, not West.
Even when one eliminates reportorial summaries and observations, though, and just sticks to the quotations of an interview subject, there is a significant risk of out-of-context presentation.
I know that firsthand because back during the priestly sex abuse scandal I was interviewed by a news program that took an answer I gave to a question on one subject and juxtaposed it with video that made it appear that I was commenting on something that I had never even been asked about.
I was livid.
And so I've always got in the back of my mind, "What's the context for the quote I'm seeing? Could this be taken out of context?"
An example of that is West's statement "I love Hugh Hefner." 
Jerkily introduced, without seeing the discussion that led to this statement, after the reporter has just been telling you that Hefner is one of West's heroes, the quotation creates the impression that West endorses Hefner.
But . . . c'mon. I'm guessing that Chris West loves Hefner in the same way that Fundamentalists love Catholics–that is, they love them so much they want them to repent of their lifestyle.
And that's hinted at by what West says next: "I really do. Why? Because I think I understand his ache. I think I understand his longing because I feel it myself. There is this yearning, this ache, this longing we all have for love, for union, for intimacy.&q
uot;
So this is not an endorsement of Hefner and what he's doing. It's compassion toward him, a recognition that there is something broken in Hefner–and all of us–that needs to be addressed.
The language about "feeling his ache" doesn't strike me as the best way to say this. I don't really want to get into Hugh Hefner's head in quite that way (though that's what the language invites me to do). 
And there is a danger of spiritualizing away the sexual urges to which Hefner caters if they are presented as just longings for love, union, and intimacy.
But it's clear that West intends to be expressing a sentiment of Christian love towards a broken individual with whom we all share various forms of brokenness.
The response was awkwardly phrased–as likely would be the case when hit by a reporter with a "What do you think of Hugh Hefner?"-type question (you don't want to feed prejudices by coming off as a stereotypical, venom-filled Christian bigot by saying "He's a son of hell," so it's easy to fall back on unnuanced Christian love-type language)–and I think West would be well advised not to make "I love Hefner"-like statements in interviews in the future since we've seen how easily they can be taken out of context or otherwise misunderstood–but it's clear that West is not proclaiming his membership in the Hugh Hefner fan club.
If you want to see what West has to say about Hefner when he's in control of the message, take a look at this video . . . 
So I think folks in the blogosphere should cut West some slack and remember that he's on the side of the angels.
At the same time, I think West should use this as a learning experience and take the occasion to purify his message so that he can be even more effective in the future.
Just as a general matter, it's important to keep in mind that there is more than one audience that needs to be (basically) comfortable with what's being said. 
Getting through to the people who most need the message of chastity is so difficult that it is easy for chastity speakers to spend so much effort focusing on how to get into that audience's head that not enough attention is paid to the already-convinced crowd and to what will–in the classic Catholic phrase–"offend pious sensibilities."
I think that's at the root of what happened here.
In the TV and YouTube age, the pious crowd is going to see the message being presented to the unpious crowd, and if the sensibilities of the message are too oriented toward the unpious folks then one's relationship with the pious ones ("the Base") will be injured.
Injuring one's relationship with the Base is not a good thing, as our recent former president found out.
The trick, the thing that makes the kind of work West is doing so difficult, is not settling for messages that just please the Base or that just please the worldly target audience. What one has to try to do is find ways of reaching the unchaste without simultaneously alienating the chaste.
That's the challenge.
And it can be done!
You can't please everybody every time, but it is possible to craft messages that will reach the unchaste while not unnecessarily offending pious sensibilities.
In that regard, what I'm about to say isn't specifically applicable to Christopher West. In various points it may or may not apply. It just consists of observations that I've made after listening to the tapes of a lot of different chastity speakers as part of my job.
Often it is possible to avoid unnecessarily offending pious sensibilities simply by leaving out things that you don't really need. 
For example, leaving out invitations to get inside the heads of people as they experience sexual temptation or conjuring uncomfortable imagery in the audience's minds.
Every chastity speaker is aware of the importance of modesty in dress and of modesty in relation to sex in general. Indeed, sexual modesty is a human universal, appearing in one form or another in every culture, even very depraved ones.
There is a parallel that chastity speakers need to observe in modesty of word and image and suggestion (and especially in humor).
It can be tempting, to show the audience that you understand where they're coming from, to talk about your own temptations in too demonstrative a fashion, to dwell on them, and end up oversharing in a way that makes people uncomfortable, causes unnecessary offense, or even constitutes an occasion of sin.
I've heard multiple speakers (not West) do precisely this to show the audience that they understand.
And it's really not necessary. One doesn't need to dwell on the details of one's temptations, their history, or their intensity. 
The audience will be convinced if you simply say with conviction, "Believe me. I know where you're at. I'm subject to temptation, too." And leave it at that.
Another potential source of problems is trying to grab the audience's attention by doing something arresting and unexpected.
Sometimes chastity speakers try to push the envelope by violating the audience's preconceptions of what a chastity speaker should be. 
There is a role for this. Chastity speakers do need to challenge the stereotype that the unchaste will want to impose on them. If they don't do something to neutralize that stereotype, they won't be able to reach the people who need to be reached.
And so some arresting, unexpected, envelope-pushing is to be anticipated and even necessary. 
But it's easy to overdo it or to have it misfire.
I think that's what's happening with West's use of Hugh Hefner. In its present form, I don't think that this part of his message is helpful, even when done on his own terms rather than ABC's.
Watch the second video and notice what he's doing: He's using Hefner as a way of getting around the prudish Puritanical/Victorian Christian stereotype. He presents both Hefner and John Paul II as men who proposed alternatives to the stereotype. He then urges people to accept John Paul's solution rather than Hefner's.
The problem is that he does this in such a way that he makes it sound like John Paul II and Hugh Hefner are basically on the same side, struggling against the evil common enemy of sexual Puritanism. Hefner just has a misguided solution.
And that's false.
West is also overselling the potential for Puritanism. He makes it sound as if our natural inclination as Christians is to see sex as bad and shameful and our bodies as evil, and that's not the case. That's the stereotype of what Christians think, but that's not what they really think. 
I don't know any adult Christians who think that way.
And I think it sells Christian culture short to make it sound as if this is the big danger for Christians. 
It would be more effective to give Christian culture its due and challenge the stereotype by saying something like, "C'mon . . . when has anybody ever told you that your body is shameful or that sex is dirty. Have you ever heard a priest say that from the pulpit? How about a bishop? How about a pope? If anybody has told you this, they weren't speaking for the Church. This is a false stereotype of Christians that the media tries to sell you to justify a loose-sex lifestyle."
Whatever one makes of that way of fighting the stereotype, it's not true that John Paul II and Hugh Hefner are on the same side against the common enemy of Puritanism. If we have to say there are two sides here, John Paul II and Puritanism are on the same side against the evil represented by Hefner. 
It's Puritanism, not Hefner and his pornographic lifestyle, that has the well-meaning but misguided solution to the problem posed by the enemy.
So I think West should at least reframe the way he handles this issue. The stereotype needs to be fought, but not by making Hugh Hefner sound like someone who's on our side but just misguided.
It's also dangerous (as the ABC interview shows) to try to express too much sympathy for the most notorious pornographer in human history. 
It can be so easily misunderstood.
I also wouldn't give too much credit to Hefner's rationalizations of his own actions. Human monsters always accuse other people, or the culture at large, of being to blame. They'll also cast themselves in the role of heroic revolutionary as a mask for baser motives (like money and access to naked, sexually-attractive women).
Another thing West does in an attempt to arrest the audience's attention and provoke thought is to refer to Song of Songs as the "centerfold" of the Bible.
He really should not do that.
That's going to offend pious sensibilities in such a way that it more than neutralizes any good that could conceivably come from using the statement to provoke thought.
Particularly problematic, I think, is the defense of this that is offered on his web site:
The Song of Songs is of great importance to a proper understanding of Christianity.  Indeed, the saints and mystics of the Catholic tradition have written more commentaries on the Song of Songs than any other book in the Bible.  It is in the very center of the Bible for a reason.  Calling it the "centerfold" in Scripture, Christopher intends to redeem the common understanding of the word "centerfold," which is usually associated in popular culture with pornography.  In no way is it meant to compare the sacredness of the Song of Songs with the distortions of pornography.
I don't see how to defend this.
Song of Songs is not "of great importance to a proper understanding of Christianity." 
It is of
very limited
importance, as illustrated by the fact that it is one of the Old Testament books that is not 
quoted in the New Testament, that the readings of the liturgy only contain

one

reference to it–seven verses that appear as an
optional
reading–and by the fact that throughout Christian history more attention has been paid to the spiritual sense of the text (i.e., allegorizing it into a treatise about Christ and his Church) than its literal sense (Hebrew love poetry).
It is almost certainly untrue that the saints and mystics of the Catholic tradition have written more commentaries on the Song of Songs than any other book in the Bible. More than Genesis? More than Matthew, Mark, Luke, or John?
At the very least, this kind of jaw-dropping statement needs some kind of citation to back it up.
The statement that "It is in the very center of the Bible for a reason" is way too glib.
It's not the center
book
of the Bible if we count by books (that would be Wisdom of Solomon–in the common, contemporary Catholic order of books), and the reason that it's center-

ish

has nothing to do with its importance for understanding the Christian faith. The books of Scripture are not ordered so that the most important ones are in the center. This is some kind of unfounded cheerleading.
The explanation then says that by "[c]alling it the 'centerfold' in Scripture, Christopher intends to redeem the common understanding of the word 'centerfold' . . ."
You have to admire his moxie. No doubt about that. But there are some windmills that really shouldn't be tilted at.
The chances of Chris being able to change the English language in such a way that the term "centerfold" gets redeemed are vanishingly small, and his time and talents would be far better spent on tasks that have greater chances of success and smaller chances of blowing up in his face.
" . . . which is usually associated in popular culture with pornography."
The term "centerfold" is
always
associated with pornography in popular culture. 
In no way is it meant to compare the sacredness of the Song of Songs with the distortions of pornography.
This can be parsed in more than one way. 
Parsed literally and grammatically, it says that Chris's use of the term "centerfold" is not meant to compare 
sacredness
(which happens to be possessed by the Song of Songs) with
distortions
(that are possessed by pornography), but if that's how you take it, it's a non sequitur to this discussion.
Nobody would suppose that Chris was positively comparing sacredness in the abstract with sinful distortions. 
Nobody thought he was talking about sacredness properly speaking at all.

People thought he was inappropriately comparing the Song of Songs in the Bible to the centerfold of a Playboy.
He was trying, certainly, to do so with
antithetic
parallelism–that is, to
contrast
Song of Songs with porn.
But it didn't come across that way.
Referring to Song of Songs as the "centerfold" of the Bible is so offensive to pious sensibilities and so open to misunderstanding that Chris should drop this one and not waste more time defending it.
This one just can't be defended.
It's not worth it trying to redeem this term. It should be dropped, and Chris should issue a statement saying something like, "I was trying to grab people's attention and make them think, but my critics are right on this one. It was dumb. I see that now."

Even if he doesn't, though, let's try to keep a proper perspective on this.
We're talking about a very small part of West's overall message, and his message as a whole is extremely positive.
It may need tweaking (everyone's message does, in one degree or another), but it's fundamentally in the service of good.

West is a man on the side of the angels, and he's an effective speaker who has done a great deal of good. He stands to do much more good in the future, and he should be encouraged in that.
Even the ABC piece, as flawed as it was, should do more good than harm on balance. Despite the Hefner-related flaws and the "centerfold" business, it communicated the ideas that (1) the anti-Christian sex stereotype is wrong, (2) that sex is a good thing, (3) that people should admire and take seriously the Church's teachings on sex, (4) including its teachings on contraception, sex only in marriage, and heterosexual marriage, and (5) it had testimonies from couples and individuals saying how these messages turned their lives and marriages around.
Chris's critics should be honest enough to admit that the piece nudged more audience members in the right direction than the wrong one.
And they should rejoice in that.
Sure, there were things that went wrong–many of them not in West's control–but he can learn from this experience and help even more people in the future.
That's something we should all hope for.